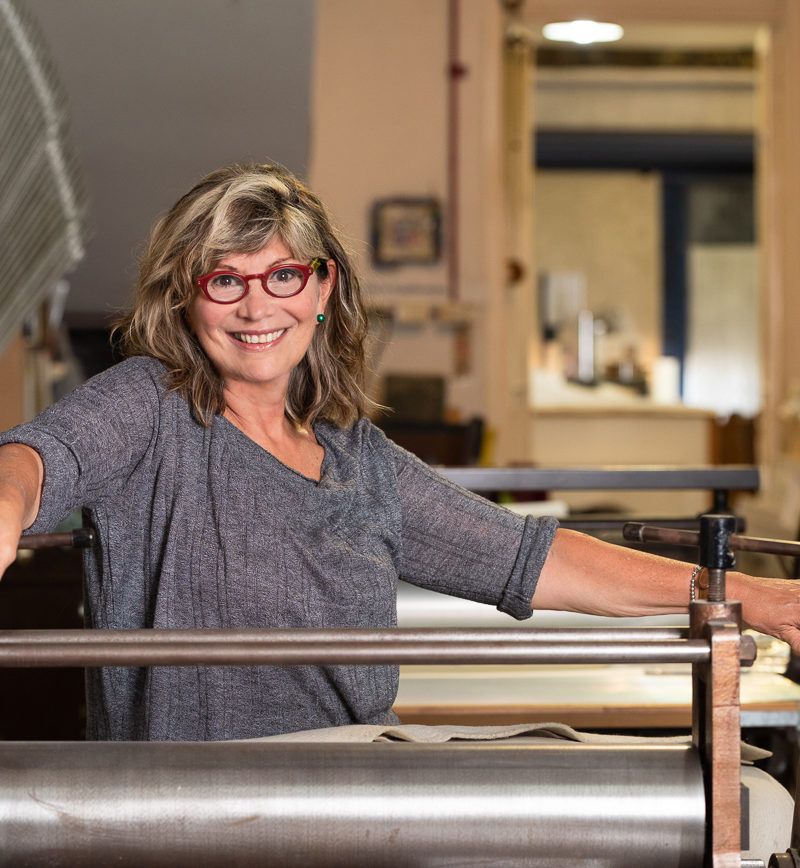 Photo by: Alejandro Meter
Mirta Kupferminc,
Multidisciplinary artist, Born, Buenos Aires, Argentina1955-
Studies: Ernesto de la Cárcova (Superior Studies) – 1978 to 1981
Prilidiano Pueyrredón (National Art University) – Degree: Master- 1974 to 1977
Manuel Belgrano (National Art College) – 1969 to1973
Lecturer, mentor of other artists and teacher, she lives and works in Buenos Aires. Exhibiting since 1977, she has had more than 100 solo and group shows in Argentina, Cuba, Brazil, Uruguay, China Switzerland, Spain, Taiwan, Japan, Hong Kong , Germany, Israel, Poland, France, Hungary, England, United States. Her works can be found in International Collections and Museums. Received local and international printmaking awards, Example: Great Honor Prize (2012) in Argentina, First Prize Sivori Museum, Argentina (2018) Silver Medal Taiwan Biennale (2006) Honor Mention Taipei Biennale (1999)Third Prize  at 7th Koichi Biennale (2008).
In 2013 she was the first international fellow at LABA House of Study: a laboratory for Jewish Art and Culture at the 14th St Y NYC.and is also the founding LABA-BA director in Buenos Aires. And also directs Grafia Insurgente Association.
E : mirta@mirtakupferminc.net
International Collections and Museums
Museo Wolfsohn Hechal Schlomó – Jerusalem- The Israel Museum Contemporary Art Collection, Jerusalem-Israel-Fine Arts Museum , Taipei-Fine Arts Museum , Taichung-
Taiwan-Ralli Museum, Uruguay- Fine Arts Museum ,Gÿor-Holocaust Museum, Budapest, Hungary-Ex-libris Museum, Saint Niklaas, Belgium-National Library , Madrid,contemporary collection, Spain-   Casa de las Américas, La Habana, Cuba- Universidad de Maryland-Library of Congress, Washington DC-Golda Meir Library, Winsconsin University,Milwaukee- HUC Museum,  Nueva York, Manhattan, NY-University of New York at Buffalo- MIAD (Milwaukee Institute of art and Design),- Winsconsin University Collection-Southern Graphic Council Collection, USA.
Collections and Museums in Argentina (selection)
Palais de Glace (Museum), Buenos Aires-Rosa Galisteo de Rodríguez Museum.
Rosario-National Printmaking Museum.
Buenos Aires-IWO Museum.
Buenos Aires-Amalia L. de Fortabat Collection, Jewish Museum.
Buenos Aires-Nueva Dirección en la Cultura Collection.
Buenos Aires-Garraham Hospital.
Buenos Aires-Hacoaj Nautical Club-Argentinian Hebraica Society.
Buenos Aires-Pardés Foundation.
Buenos Aires-Konex Foundation.
Buenos Aires-Banco Mercantil Foundation.
Cultural and Commercial Office of Taipei in Argentina.
Main Awards
2018 Second prize – Salon manuel Belgrano – Museo Sivori national contest
2016   Beca Memorial Foundation for Jewish Culture – New York
2013 Honor Mention Sivori Museum, Argentina
2013 First International Fellow at LABA: HOUSE OF STUDY Y New York-
The Charles and Lynn Schusterman Family Foundation (CLSFF)
"#MakeItHappen" Micro Grant Campaign
2012 First National Honor Award – Presidencia de la Nación Argentina
2010 Special prize for the Video THE NAME AND THE NUMBER,Argentina,
2008 Third prize at the 7th International Triennial Exhibition of Prints- Kochi
Grant- Memorial Foundation for Jewish Culture-
2007  Commendation Award- Ben Uri art gallery- IJAYA- London, Great Britain
2006  Second Prize- Internacional Printmaking Bienal Taiwán
Premio Moisés – Visual Arts Sociedad Hebraica Argentina
Holocaust Museum Prize- Buenos Aires
2001   Adquisición Award, 78º Annual Salón de Santa Fé, Argentina
1999   Honorable Mention, Printmaking Biennial of Taipei, Taiwan
1998   She was invited by the Printsaurus Association, Japan
1997   National Printmaking Award – FIRST PLACE
1996   Honor Great Award, Salón de Santa Fe, Argentina
1993   Consulate of Italy Award, Salón de Santa Fe, Argentina
Fondo Nacional de las Artes Award –
1989   Guibourg Award , National Award, Argentina
1987   Best Monotype Award, National Award, Argentina
1985   Cata Mórtoli de Bianchi Award, National Award, Argentina
1984   Salvador Caputto Award , Salón de Santa Fe, Argentina
1980   Young Argentinian Art  Award – FIRST PLACE
Lectures (selection)
2020 (online)– interview by the Jerusalem Biennale
Fundación Judaica: 'A circle of chalk"
Fundación Pardes: " Not hidden nor evident"
Holocaust Museum Buenos Aires: Conversation on Art and Memory"
Conversation with Dan Schiffrin, California: "Story telling"
Dartmouth University; "Borges and the Kabbalah"
Hacoaj culture department: " Discovering the already known"
2019– MSA conference, conversation with Mirianne Hirsch- Art and Memory
2018– Argentinean Chancellery, about Memory and Art
Impact printmaking conference, Santander Spain- Migrant printmakers in conversation
2017 Library of Congress- A Jewish latinamerican view on Babel, with Tova Shvartzman
Borges and the Kabbalah- LABA- 14TH St Y New York
2015 – "The Trap of Eden" at the Latin American Jewish Studies Association LAJSA, University of Florida, with Tova Shvartzman
The Skin Of Memory- Beth Torah Beny Rock Campus, Florida-
2014 – Borges and Kabbalah, 14th St Y (LABA session)-
2013 Curator´s presentation at the SCGI International Printmaking Conference- Milwaukee-
2012 – Lazar Segall Museum. Sao Paulo- Printmaking art Fair. Estampa
2011– Interdiciplinary Center for the study of Global Change- University of 2011Minnesota- "Multiculturalism and Migration: an artist´s Vision"- She directed the artist´s books Project " Inter- Vengo" a Buenos Aires for students of Dartmouth College –
Workshops at:Dartmouth College- New Hampshire- Printmaking department- February
2009 – MIAD Milwaukee Institute of Art and Design- Printmaking clases. Book s classes- Art critic painting students
Visiting artist at MIAD – Darmouth College – (lecture and Workshops)
Latin America Jewish Studies- University of Tel Aviv- with Saúl Sosnowski
The University of New York at Buffalo- October 2009.
2008 – Visiting artist University of Maryland
HUC- NY about my work
2007 – Library of Congress with Saúl Sosnowski-Borges y la Cábala, Senderos del Verbo- Villa Ocampo- UNESCO, with Saúl Sosnowski .
Visiting artist – MIAD – Milwaukee Institute of Art and design- Golda Meir Library- Wisconsin University- Milwaukee- Hebrew Union College- Lecture "Mirta Kupferminc as a printmaker"-Visiting artist at Wisconsin University-( Lectures and exhibition-)
2006 – LAJSA Latinamerican Jewish Studies –National Library- Buenos Aires
Round table about Postmemory- Hemispheric institute Encounter
2004 – Paralel Worlds- Fundación Internacional Jorge Luis Borges-
2001 – Psicoanalisis and Art-Centro Cultural Borges – National Fine Arts Museum
Exhibitions (selection)
2020– º School Photos and their Afterlife- Hood Museum Hanover
º The Other is Oneself- Franz Josefs Kai 3, Viena
º Salon Manuel Belgrano, Museo Sívori, Buenos Aires
2019- º Art and Jewish Mystisism- Joods Museum, Amsterdam, Holanda.
º Descanso de Caminantes, Fundación Cazadores, Buenos Aires.
º Creator and  y curator  of the project Confrontation- Conversation, 4th
Jerusalem Biennale
º Beyond The Veil- Hotel Saturnia & International, Venecia Italia-
Artlife for the World, Venecia- Italia (taking Part).
Women Mobilizing Memory- Congreso MSA, Madrid, España.
2018  ° Mundo Nuevo Art Gallery- "Bordering Silence"
CASYC, Santander, Spain "An Altar for Alter"
2017 ° Represents Argentina at the Third Jerusalem Biennale-
Traduttore-Traditore.
2016  º DAIN  Usina Cultural, Buenos Aires –"The Body Of The Words".
º " Divided Waters"- Venice- 500 years  del Ghetto in Venice.
º Festival de la Luz- Buenos Aires
2015- ºGalerie Koo- Hong Kong
º Art Biennial Jerusalem ( group show)
2014  º Invited artist to show at the International printmaking exhibition at The Fine
Art Museum , Shangai
º Presentation at LABAlive at the 14th St Y , Manhattan USA
2013  º Printmaking exhibition at ArchivArte Gallery- Bern Switzerland
º Gravura Brasileira, Sao Paulo- Brazil-
º Experimental Printmaking Projects
2012 º Fundación Alon para las Artes- Buenos Aires- La Vida Espuma- with
texts by Manuela Fingueret
º Fundación Fundacruz- Río Gallegos-
º Mapping Desire: Borges And Kabbalah- with texts by Saúl
Sosnowski
2011  º The Palm Of My Hand .Original Múltiple Gallery- Buenos Aires.
Centro de Cultura Judaica- Sao Paulo, Brasil.
º Reni Duplaa: al borde de lo virtual- Galería ATICA, Buenos Aires,
(collaboration with Jorge Meijide)
2009 º WANDERINGS Jewish Museum Hebrew Union College NYU.
º Galería Arcimboldo- The Skin Of Memory, Buenos Aires .
2008 º Nohl Art Gallery– Wisconsin University- Milwaukee. "Women of the Book:
Mirta Kupferminc and Shirah Apple.
º Borges and the Kabbalah: Seeking Access Exhibition with texts by Saúl
            Sosnowski. University of Maryland.
2007 º Cervantes Institute, Chicago,U.S.
º Installation: The Skin Of Memory  Hemisferic Institute,Centro Cultural
º Buenos Aires,  Buenos Aires,
º Universidad CEMA – Skin and Soul of Memory.
2006 ºBorges And Kabbalah: paths to the Word- texts Saúl Sosnowski-
Centro Cultural Recoleta, Buenos Aires.
2005 ºUniversitat der Künste Berlin Gallery,Germany
º Exhibition video  "En Camino"  Espacio Fundación Telefónica, BA
2004 º International Foundation Jorge Luis Borges. "Mundos Convergentes"
Buenos Aires.
2003 º Invited by Argentinian Chancellery .
2002 º Sívori Museum Art Gallery, Buenos Aires, Argentina .
º International Images, Sewickley, Pittsburgh
1999 º Recoleta Cultural Center, Buenos Aires
º Espacio Giesso Art Gallery, Buenos Aires.
º Ruth Schweitzer Fine Arts Art Gallery, Toronto, Canada.
º National Exhibition Hall (Palais de Glace), Buenos Aires.
1998  ºSokei Academy of Fine Arts, Tokyo, Japan.
1992  ºModern Art Museum, Buenos Aires.
1990  ºAmerican Art Museum, Punta del Este, Uruguay.
º Wildenstein Art Gallery, Buenos Aires, Argentina .
1989 º Aramayo Art Gallery,Uruguay .
1984  ºPraxis Art Gallery, Buenos Aires.
1982   ºRubbers Art Gallery, Buenos Aires, Argentina
Catalogues (selection)
Bordering Silence  (2018)
Traduttore-Tradittore   (2017)
The Body Of The Word (2016)
La Vida Espuma (2012)
Wanderings- (2009) Jeannie Rosensaft- Huc- Nyc
Borges And The Kabbalah: Seeking Access- Saúl Sosnowski, University Of Maryland,  College Park Art Gallery (2008)
La Piel De La Memoria – (2007)- Marianne Hirsch & Leo Spitzer
Borges And The Kabbalah : Paths To The Verb- Saul Sosnowski- (2006)
Gente Del Otro Espejo- (2001) (Julio Sapollnick)
Mundos Paralelos- (1999)
4 Artistas Plásticos Argentinos- (1997)
Articles and books (selection)
School photos in Liquid Time- (2019) Hirsch- Spitzer
Women and Migration- Response in Art and History- (2018) Willis- Toscano- Nelson
Revista Casa Foa. (July 2016) Buenos Aires
Sculpture Magazine (2015) New York
Cultura e Educaçao- Coelho Teixeira (2015) Brazil
God, Faith, & Identity From The Ashes- Menachem Z. Rosensaft (2014) NY
The Global And the Intimate : Feminism In our Time- Geraldine Pratt, Victoria Rosner (2013)
Harbinger of Modernity– Dalia Wassner (2013)
Painting Borges: Philosophy Interpreting Art Interpreting- Jorge J. E. García (2012)
Future of Text And Image: collected essays – Ofra Amihay, Lauren Walsh (2012)
The New Jewish Argentina- Adriana Brodsky , Raanaan Rein (2012)
In the wake Of Neoliberalism : Citizenship And Human Rights- Karen Faluk- (2012)
Returning To Babel: Jewish Latin American experiences- amalia Ran- Jean Cahan (2011)
Critical Mass : printmaking Beyond The Edge- Richard Noyce- (2010)
The Jewish Diaspora In Latin America And The Caribbean- Kristin Ruggiero (2010)
Installations and experimental Printmaking- Alexia Tala (2009)
Misplaced objects: Migrating Collections and Recollections- Silvia Spitta (2009)
Rethinking Jewish- Latin America- Jeff Lesser, Raanaan Rein- (2008)
The Walls Of Labyrinth…- Karen Ann Faluck (2008)
Argentina: A Global Studies Handbook.- Todd L. Edwards (2008)
Diaspora And Memory: Figures Of Displacement.- Marie- Aude Baronian, Stephan Besser, Yolande Janses (2007)
Debate Feminista- Vol 18 (2007)
Art News- Vol. 101-
Hijos De La Guerra- Diana Wang, Constanza Brunet- (2007)
Grabart- Papel Y Estampa- (2006)
Espiral De interrogantes- Reynaldo Gonzalez- (2004)
Iluminaciones Judías- Eliahu Toker (2002)
Art News- issue March (2002)
AJS- Perspectives- Magazzine of Jewish Studies- migration- issue fall 2017
Teaching Activity
In Argentina, Mirta runs her own art studio from 1981 to date, where she teaches artists of different levels and from multiple fields of the artistic landscape.
She also coordinates the GRAFICA INSURGENTE group, which she founded in 2018 and leads to date. It consists of a group of reflection for professional artists which she trains in the practical situations of professional activity.
Since 1980, she developes an intense teaching activity.
She launched  and directs since then, LABA-BA : Laboratory of Art and Jewish Culture in Buenos Aires in 2015, together with LABA in the 14th st Y of NYC.
Organizes and coordinates residencies of studies for artists of multiple disciplines together with Lic. Tova Sharzman; with whom she directes study travells and exhibitions of LABA-BA in New York.
She directs her own studio accompanying artists in their ownprojects.
Coordinates training for educators. Lecturer locally and in many universities abroad.
Bamah years 2006-2005
Tarbut School 2007
Badaj Jinuj- AMIA year 2006
Limud- Buenos Aires year 2008 -2010-2011
Dartmouth College- New Hampshire- printing department- February 2009.
University of Maryland- St Mary's College.
Maryland (2010)The University of New York in Buffalo (2011)
MIAD Milwaukee Institute of Art and Design- engraving classes. Workshops on Artist's Book – Work clinic for painting students.
She  gave a postgraduate seminars at the Tres De Febrero University in Buenos Aires during a semester "A Jewish glanze on the Visual Arts" and multiple workshops in universities in the United States.